My good friend Brian and myself did a four week ride across the USA by motorcycle.
We spent a few days exploring the Blue Ridge mountains of Virginia, the Wheels Through Time Museum, and the Blue Ridge Parkway. From there we rode to Nashville Tn. to visit my daughter that lives there and then on to Georgia for the three day Barbor Vintage Motorcycle Festival. The equivalent of the Monterey Historic or Goodwood Revival except for vintage motorcycles. It takes place at the Barbor Motorsport Park which features a giant car and motorcycle museum, a terrific race track with vintage motorcycle racing all weekend, a swap meet, and motorcycle show, then Georgia where we will wandered our way across the USA all on back roads back to San Luis Obispo.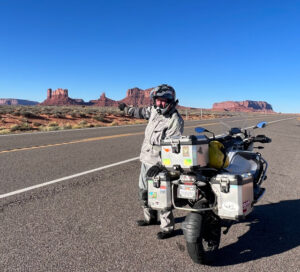 Brian picking our next lunch stop.  Note this is our last Tuesday night, we'll have our Wednesday night reservations back next month.