Riding a motorcycle is fun, but riding in an organized group is a blast. Not only do you get to meet others that share your interest in riding, you also find great places to ride and get to experience the thrill of riding in a group. Coast Riders is a non-profit riding club for motorcyclists of all ages, interests and capabilities. The club organizes rides and also other events, like product manufacturer presentations and informational seminars. We endorse The Pace riding style. Here's the link to the new updated Pace 2.0.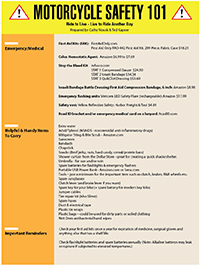 Coast Riders Motorcycle Club is supported by the following businesses.
---


Show your Coast Riders Membership Card and receive a 10% discount on all parts and in-house labor!
C&H Motorsports
8981 La Linia Ave, Suite H, Atascadero, CA 93422
(805) 461-6686
---

CoastRiders Powersports offer the following discounts to club members.
*You must present your Coast Riders Club membership card to receive discount.
10% off Aftermarket Parts
10% off Installed Fluids (Does not include labor)
$10 off Installed Street Tires (Does not include labor)
CoastRiders Powersports
306 Higuera Street, San Luis Obispo, CA 93401
805-543-0354
---
Club Benefits Include:
Organized rides. from half-day cruises to multiple day tours.
Exclusive product and motorcyclist information seminars.
Monthly meetings with free food!
Coast Riders is proud to support the Food Bank Coalition of San Luis Obispo County.